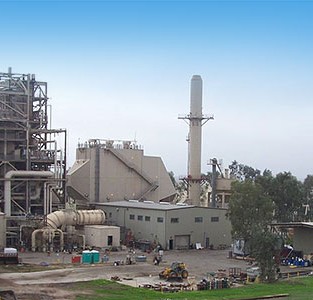 Address
3100 Thunder Valley Court
Lincoln, Placer Co. CA 95648-9579
Size (MWs)
25
Dedicated Indirect Jobs
Rio Bravo Rocklin is responsible for approximately 40 dedicated indirect jobs, including fuel suppliers involved in collection, processing and transport of biomass fuel.
Senate District
SD 4, Jim Nielsen, R
Assembly District
AD 6, Kevin Kiley, R
Congressional District
CD 4, Tom McClintock, R
Rio Bravo Rocklin
Rio Bravo Rocklin (RBR) is located in Central California near the community of Rocklin. RBR is a 24.4 MW biomass facility burning 80% HHZ 10% mix of Ag and Urban which would otherwise be diverted to landfills. The power produced by RBR is now purchased by SCE.
In 2009 Rio Bravo Rocklin was named one of the top renewable power plants in North America by POWER magazine.  This recognition from Power magazine features plants from across the country which performed at the top of their particular fuel type or class.
RBR is a partnership venture between IHI Power Generation and North American Power Group. IPSC provides operations and maintenance services under an Operations and Maintenance agreement.
Project Overview
| | |
| --- | --- |
| Location: | Lincoln, California (near Sacramento) |
| Technology: | CE/Lurgi Circulating Fluidized Bed Boiler, MHI turbine, Brush Electric Machines generator |
| Fuel Type: | Biomass: 80% HHZ, 10% Ag/Urban |
| In-Service Date: | May, 1989 |
| Capacity: | 24.4 MW (12 MW to CE) |
| Output: | BioRAM contract with SCE |
| Ownership: | IHI Power Generation Corp. 50% North American Power Group (50%) |
| Operator: | IHI Power Services Corp. |
Contact Information:
Mike Horn, Plant Manager
Becca Rolufs, Admin.
(916) 645-3383
Address:
3100 Thunder Valley Court
Lincoln, CA 95648
Rio Bravo Rocklin Biomass Plant Named Top Renewable by POWER Magazine
Rocklin was named one of the top renewable power plants in North America by POWER magazine, a national energy industry publication which featured the plant on its December 2009 cover. Rocklin was featured as a result of an impressive turnaround in performance by the plant following a $14 million investment in 2008 to refurbish the plant's boiler. Frequent outages were eliminated and today the facility is one of the top operating power plants in IHI Power Services Corp. fleet