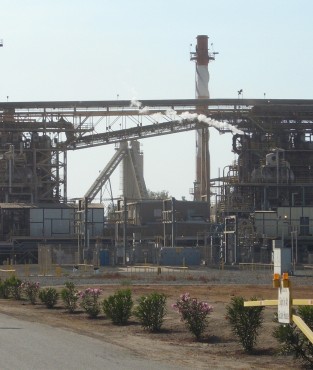 This facility is currently idle.
Address
31500 Pond Road
Delano, Kern Co. CA 93216-0550
Size (MWs)
49
Direct Employees
50
Dedicated Indirect Jobs
Covanta Delano is responsible for approximately 100 dedicated indirect jobs, including fuel suppliers involved in collection, processing and transport of biomass fuel.
Senate District
SD 14, Andy Vidak, R
Assembly District
AD 32, Rudy Salas, D
Congressional District
CD 21, David Valadao, R
Website
http://www.covanta.com/facilities/other-renewable-energy.aspx
Covanta Energy Corporation is an internationally recognized owner and operator of Energy-from-Waste and renewable energy projects and a recipient of the Energy Innovator Award from the U.S. Department of Energy's Office of Energy Efficiency and Renewable Energy. Covanta's 44 Energy-from-Waste facilities provide communities with an environmentally sound solution to their solid waste disposal needs by using that municipal solid waste to generate clean, renewable energy. The company also operates wood biomass energy facilities in California and Maine. Annually, Covanta's energy-from-waste and biomass facilities generate clean, renewable electricity for approximately 1 million homes in North America. For more information, visit covanta.com.
Contribution to the local economy (tax revenue, etc.): Covanta's 107 MWs of power generation make over $54 million in contributions to the local economy in which the plants are located and pay over $1 million in sales and property taxes.